As a part of The Old Schoolhouse's Crew, I get to review many different homeschool related items. Normally those items are geared towards the Bugs because she is the older of our girls. This time around, we got to try something out with the Beans. Let me tell you, Beans was so happy to have something for her for a change.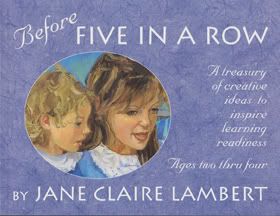 This time we got to review Before Five in a Row. As the name implies, it comes before the Five in a Row curriculum. It was put together by Jane Claire Lambert.
Before Five in a Row (BFIAR) is a wonderful curriculum to gently introduce your young preschoolers (it is designed for ages 2-4) to the beginning of their homeschool (or preschool if you decide to not homeschool all the way through) years. BFIAR is at its simplest, a guide of activities, projects and discussion starters that correlate with the gems of children's literature. While it seems simple it is also more than that. It helps to reinforce listening skills with the youngers, helps them work on motor skills, pre-reading skills, health, art, music, drama and more. So while the curriculum seems rather simple, don't let it fool you.
You don't need to go out and buy much to use this curriculum either. Most (if not all) of the suggested activities can be done with common household items and the books used as the spine can be found at most libraries. I will warn you though, even though I do live in a moderately sized town, I was only able to find half of the books listed (we do own Caps for Sale which is a family favorite, however, I couldn't find over six titles suggested at the library. I'm not sure if that is because they were checked out and lost in the tornado or not.)
BFIAR uses as it's spine classics like Caps for Sale (HubbaHubba's favorite book as a child, which he still has memorized); Angus Lost; If Jesus Came to My House; Corduroy; and Jesse Bear, What Will you Wear? I like the fact that these are older children's books as I know that they won't have the sometimes questionable content so prevalent in children's books today. While I still pre-read everything and I do suggest that all parents pre-read the literature they introduce to their children,  these are safe books according to most standards.
Now, since we own Caps for Sale, and it is one of the family's favorites, I'm going to explain a bit of what we did (now, you can do a book a day, a book a week [what we did] or a book every few weeks. You totally get to set the pace and timing of this curriculum. There is no hard core, set in stone lesson plans for this, so you do what works best for you. It's very easy to customize).  The theme is that there are many different ways to solve problems. You have a Bible lesson (Proverbs 6:10 & 11). You do counting for some math work (count the caps, count the monkeys, count the different  colors of caps…count your child's hats, their stuffed monkeys, etc). For vocabulary, we learn what a bunch is and that cap means the same as hat. You can talk about how walking like the man in the story is, is good for your health and then take a walk (P.E. and Health, which can also include safety lessons if you go out for a walk in the neighborhood, and some dramatic fun if you go on a hunt for monkeys).  For art, look at the illustrations and have your child tell you what they see, what colors are used, how the pictures show the progression of the story, and then have them draw a monkey or a hat. You can also discuss how the man must feel to have the hats stolen by the monkeys, how it might be angry and confused. Now, we didn't do all of this in one day. This was over the course of a week. And each day we read the story again.
I love the concept of BFIAR. I love books. I love introducing my children to the wonders of literature and the comfort of a good book. I like how this is so easy to incorporate into a very busy schedule (moms of more than one can agree, I'm sure). It really doesn't take very long to do either. Just a few minutes to read the book and do one or two things in relation to the story. It can be done quickly after lunch, while the olders are working on independent school projects and some activities are great for just before bedtime. This is a very gentle introduction to school for the younger children.
I don't recommend this is curriculum if you prefer a more structured curriculum that is heavy in worksheets and is hitting on the academics. However, if you lean more towards a Charlotte Mason philosophy in your schooling, this is a great product for your first year with the littles. And if you really want to work in some more academics, that is easily done with this curriculum.
For us, with Beans being three and a half, she wasn't too thrilled with the same story being read every day. And she is above academically for a lot of the suggested activities. I like how I could adjust things and did use BFIAR as more of a springboard for ideas for themed activities I could do with her. I would suggest this for a young three or a two-year-old. And it is so easy to do, if you have enough children to have a buddy system going, the older buddy could do some or all of this with their little buddy.
At the time of this post, Before Five in a Row is available exclusively through Rainbow Resource for $35.00.
If you want to read what others had to say about this curriculum, go visit the Crew's Blog.
As a part of The Old Schoolhouse's Crew, I was given the curriculum/book Before Five in a Row by Jane Claire Lambert for the purposes of this review. All opinions are mine and mine alone and no other compensation was received..